Special Thanks to Dewface for the idea. Check out her original Ultimate War: ART CONTEST! More special thanks (for thr 3rd time) to Hollyfire 53 for her Ultimate War.
Here, you make a picture of a scene or character from my Saga of the Redwall Wars. First, SOMEBODY PLEASE TELL ME HOW TO PUT PICTURES ON THIS WIKI! After a reasonable amount (say, 5 pics) have been placed, I'll make a poll for people to vote on for 1 month. After I post the poll no more pics. After a month, the winner with have an award placed on the top of his/her user page.
NOTE: Please place new pics on my talk page.
Now, begin!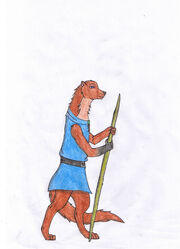 Ad blocker interference detected!
Wikia is a free-to-use site that makes money from advertising. We have a modified experience for viewers using ad blockers

Wikia is not accessible if you've made further modifications. Remove the custom ad blocker rule(s) and the page will load as expected.