Wallyum Rudderwake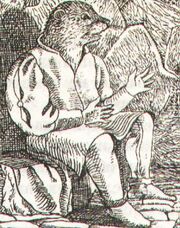 Wallyum Rudderwake was the otter leader of Holt Rudderwake, the husband of Dorumee, and the father of Inbar Trueflight and Winniegold. He was also a healer for the seal Hawm and his tribe; the otters and seals were allies because of this, and Wallyum and Inbar learned to speak their language. The seals called the otterchief "Waaaaylum", not being able to properly say his name.
Martin the Warrior appeared to Wallyum in a dream, asking him to assist some Redwallers in defeating Ublaz Mad Eyes. Wallyum was more than willing to comply; he provisioned and fed the Redwallers on his island, and and allowed his son Inbar to accompany Martin II, Clecky, Viola Bankvole, Plogg, Welko, and Grath Longfletch on their journey to Sampetra to save Abbot Durral. He also used his gift of talking to seals to convince Hawm's tribe to accompany the warriors to Sampetra, and tow their raft; this later saved Welko and Viola's lives, as the seals took care of many vermin who were after the duo.
Ad blocker interference detected!
Wikia is a free-to-use site that makes money from advertising. We have a modified experience for viewers using ad blockers

Wikia is not accessible if you've made further modifications. Remove the custom ad blocker rule(s) and the page will load as expected.