Wegg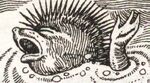 Wegg was a little male hedgehog, the smallest at the Abbey, who lived in Redwall Abbey. He sailed with the trifle bowl in the Abbey's pond by accident and was saved by Mhera from a greyling. Wegg was a minor character and not much else is known.
Not to be confused with Whegg.
Ad blocker interference detected!
Wikia is a free-to-use site that makes money from advertising. We have a modified experience for viewers using ad blockers

Wikia is not accessible if you've made further modifications. Remove the custom ad blocker rule(s) and the page will load as expected.