Yo Karr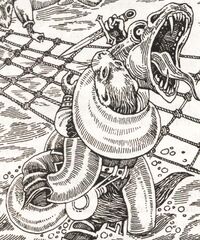 Deyna fighting Yo Karr
Yo Karr was a giant eel who was given sacrifices by the Cavemob because they believed that otherwise younger eels or "elvers" would not return. It lived in the water in the Cavemob's cave. A sacrifice was determined by walking under a stalagmite; if water dripped from the stalagmite onto a shrew, that shrew was the victim. Yo Karr was slain when one of Bodjev's daughters was the intended sacrifice, Tagg went into the lake and fought with it; he bit into the eel's neck and proceeded to stab it with the blade of Sawney Rath. As it had eaten many of the Cavemob, the Cavemob did not bake it in pies like the previous eels; instead the carcass was rolled into the water where it had lived.
Ad blocker interference detected!
Wikia is a free-to-use site that makes money from advertising. We have a modified experience for viewers using ad blockers

Wikia is not accessible if you've made further modifications. Remove the custom ad blocker rule(s) and the page will load as expected.